We all know it's a good idea to wash our hands before we eat. Wouldn't it make sense to have a sink basin near the host station when you arrive at a restaurant?
It's also good hygiene to wash your hands before a business meeting. How smart would it be to have a handwashing station in the office lobby near the security desk so you can wash up without visiting the restroom?
Those are the kinds of questions we asked during recent brainstorms with a global architecture and design firm. With the COVID-19 pandemic receding, these sessions—which brought together dozens of designers and product specialists— explored potential space modifications that could answer the public's renewed demand for hand hygiene with intelligence, pragmatism, and style.
Here's a look at how some of these ideas work in:
Restaurants and hospitality spaces

Office buildings

Stadiums and entertainment venues

Airports

Schools and universities
These modifications may seem futuristic, but you can specify many of the Sloan products they include today.
Restaurants and Hospitality
Imagine you arrive at an upscale restaurant. You'd like to wash your hands, but instead of running to the restroom, you can use the sink basin right next to the host station.
There's a short wait before your table is ready? Step over to the bar and wash your hands while the bartender mixes your drink. As you can see in this rendering, these hand-washing stations can be beautifully designed to blend seamlessly with the fine-dining experience.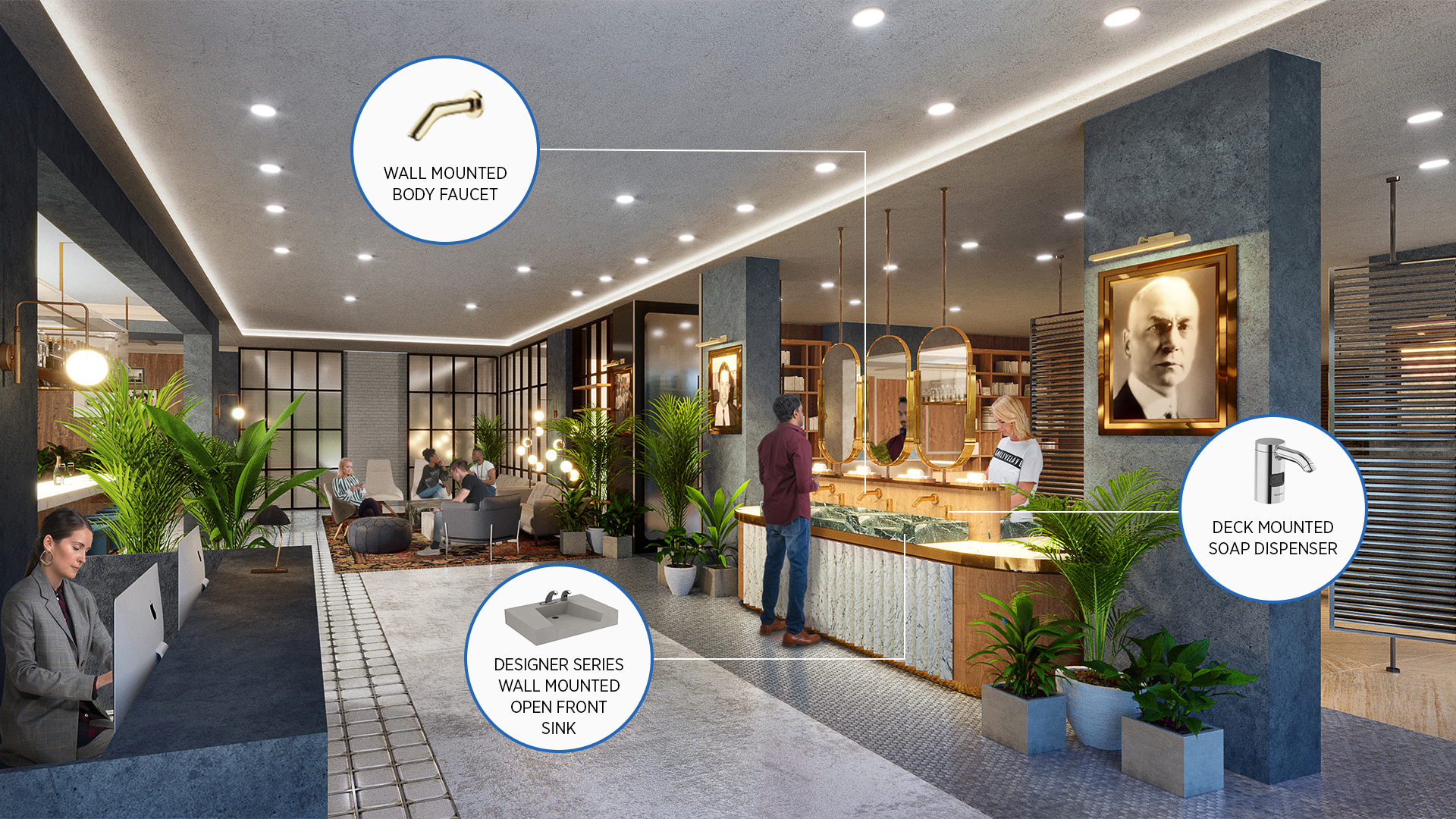 Soon to be released Optima® EBF-825 Wall-mounted Faucet, Sloan® ESD-700 Deck-mounted Soap Dispenser, Designer Series™ DSOF-83000 Open Front Sink
One more place we might see sinks in the future? At hotel check-in desks. After a long day of touching airplane seats, suitcase handles, and the interior of ride-share cars, how convenient would it be to wash your hands before you head up to your room?
Office Buildings
Think of all the surfaces you touch in the lobby of an office building. You can carry hand sanitizer with you, of course, but it would be much more convenient to be able to wash your hands at these locations.
Just inside the door

, after you've touched the handles

At the reception desk

, after you've touched the sign-in and information screens

Near the elevators

, after you enter or exit the lobby area
As you can see, these solutions can be as stylish as their surroundings and even enhance the aesthetic of the space while offering a clean, comfortable environment.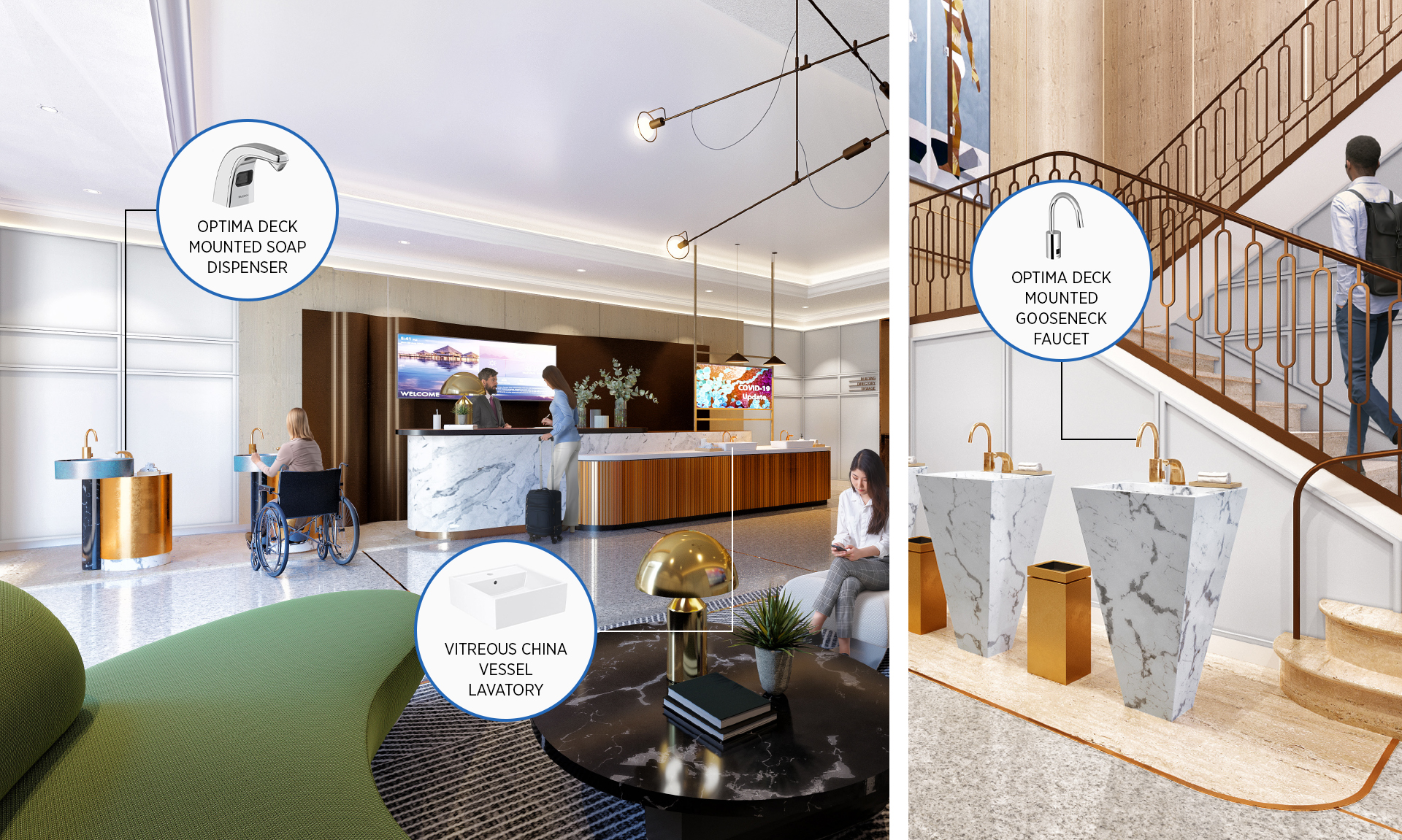 Optima EAF-700 Deck-mounted Gooseneck Faucet, Sloan ESD-600 Deck-mounted Soap Dispenser, SS-3026 Vitreous China Lavatory
Stadiums and Entertainment Venues
There are two things you know about going to a game or a concert at a big venue: You're going to get food and drinks, and you're probably going to endure a long line at the restroom, even if all you want to do is wash your hands.
Problem solved!
Imagine handwashing stations throughout the concourse, complete with screens that keep you in the game while Sloan AER-DEC® Integrated Sink Systems offer seamless and touch-free soaping, rinsing, and drying.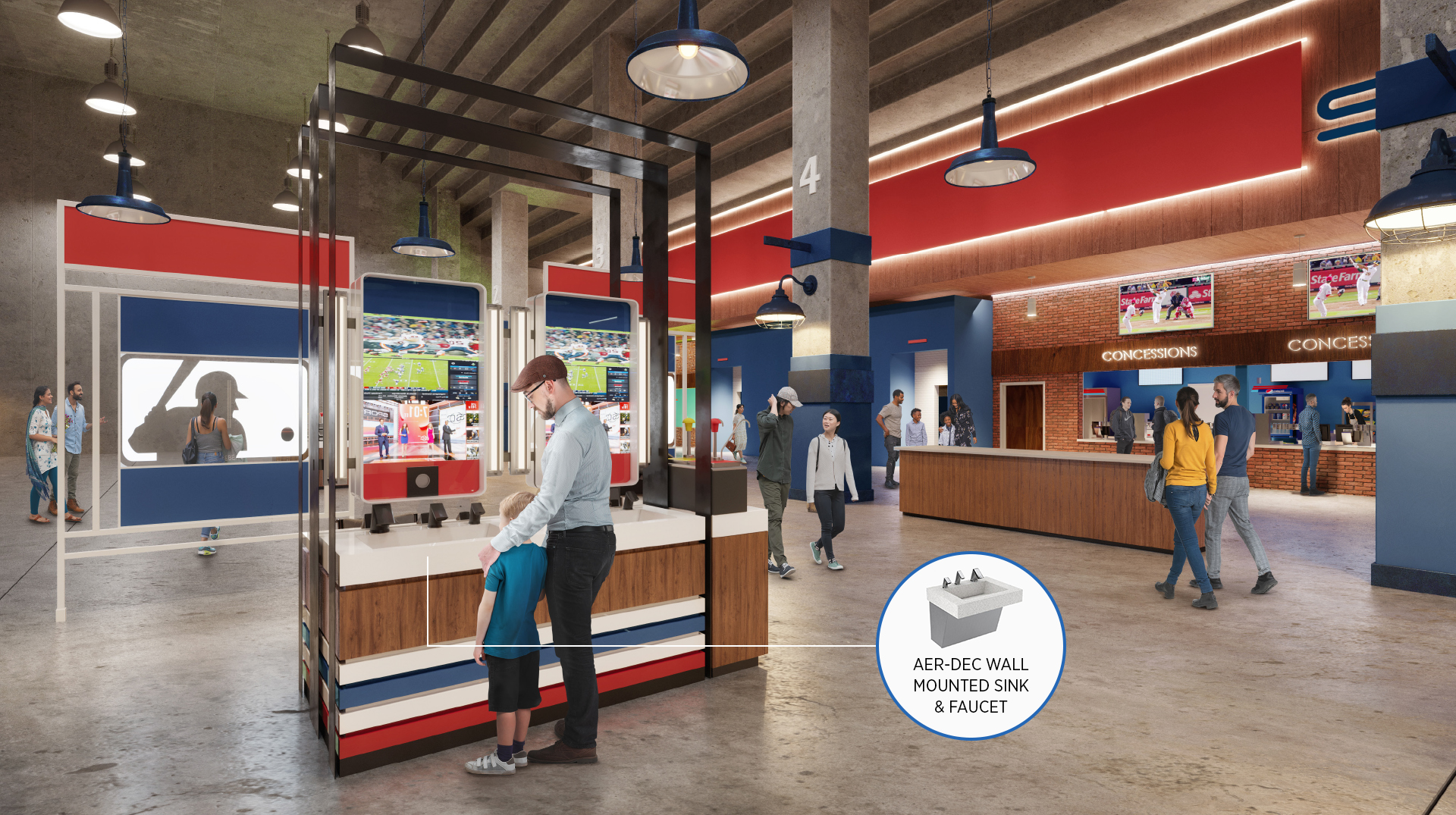 AER-DEC® Integrated Sink System
Airports
Airports are crowded and busy, and people are carrying pathogens from all over the world. So it's perfectly natural to want to wash your hands on your way to catch a flight, or just after getting off one. But that means you have to drag your luggage into the restroom, right?
Not if airports start installing handwashing stations like this one at strategic locations within the terminal. With arrival and departure screens and digital airport maps mounted above these Sloan Designer Series Gradient Sinks, you can wash your hands, get the flight information you need, and be on your way, quickly and conveniently.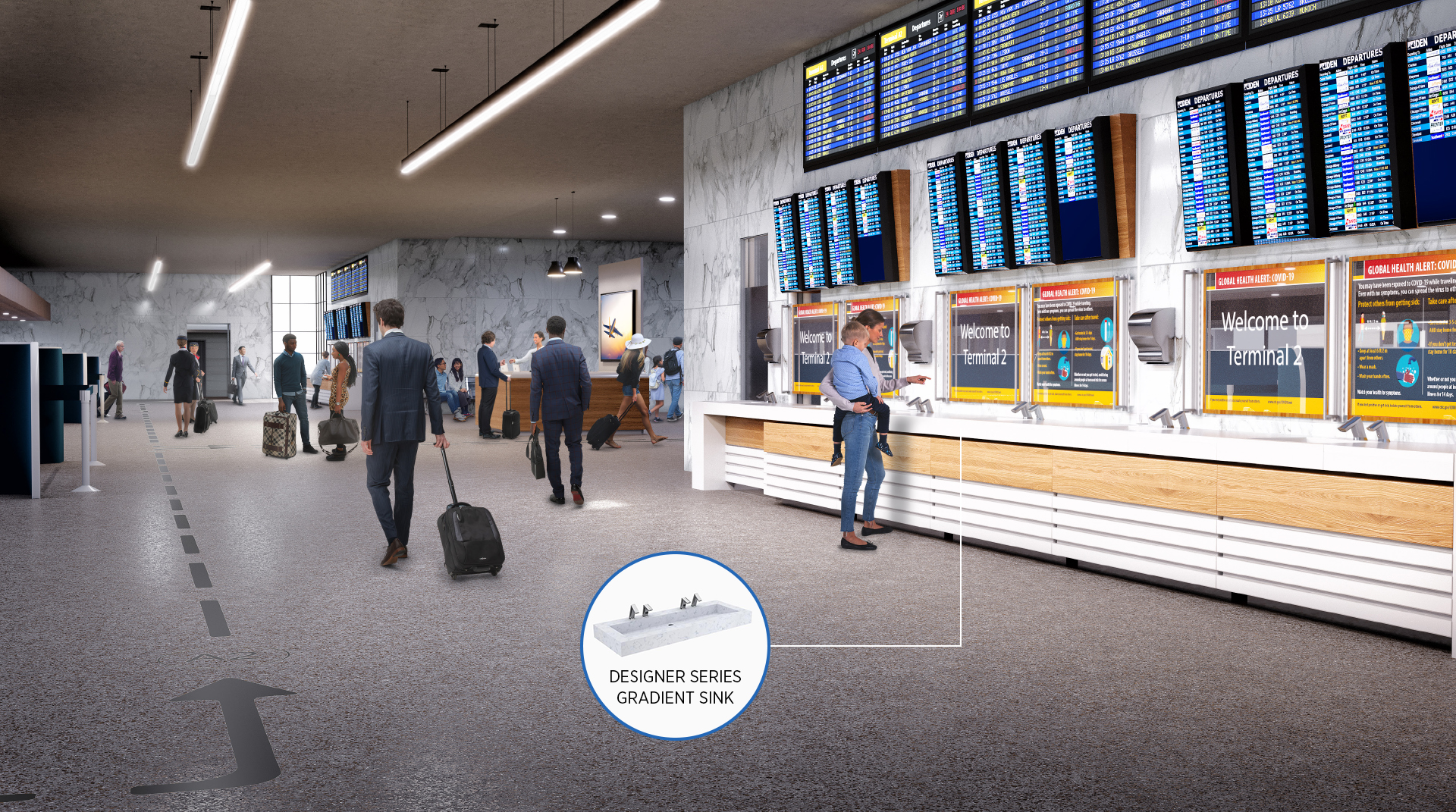 Sloan Designer Series Gradient Sinks, EFX-200 Deck-mounted Faucet, ESD-500 Sloan Deck-mounted Soap Dispenser
Schools and Universities
Kids touch everything, right? For grade-schoolers, a big part of the educational experience is hands-on. But high schoolers and college students touch a lot of things, too—books, tablets, laptops, desks, and more. There's plenty of opportunity for germs to spread from one student to another.
Since students may not always take the time to go to the restroom just to wash their hands, it makes sense to locate handwashing stations in high-traffic areas and transition points, such as the building entry and reception areas, break areas, cafeterias, and gyms.
These stations could be combined with screens displaying school announcements, calendar updates, or even buzz-building messages ahead of the big game. (Go Wildcats!) For younger kids, the screens could even carry age-appropriate cartoons promoting proper hand hygiene.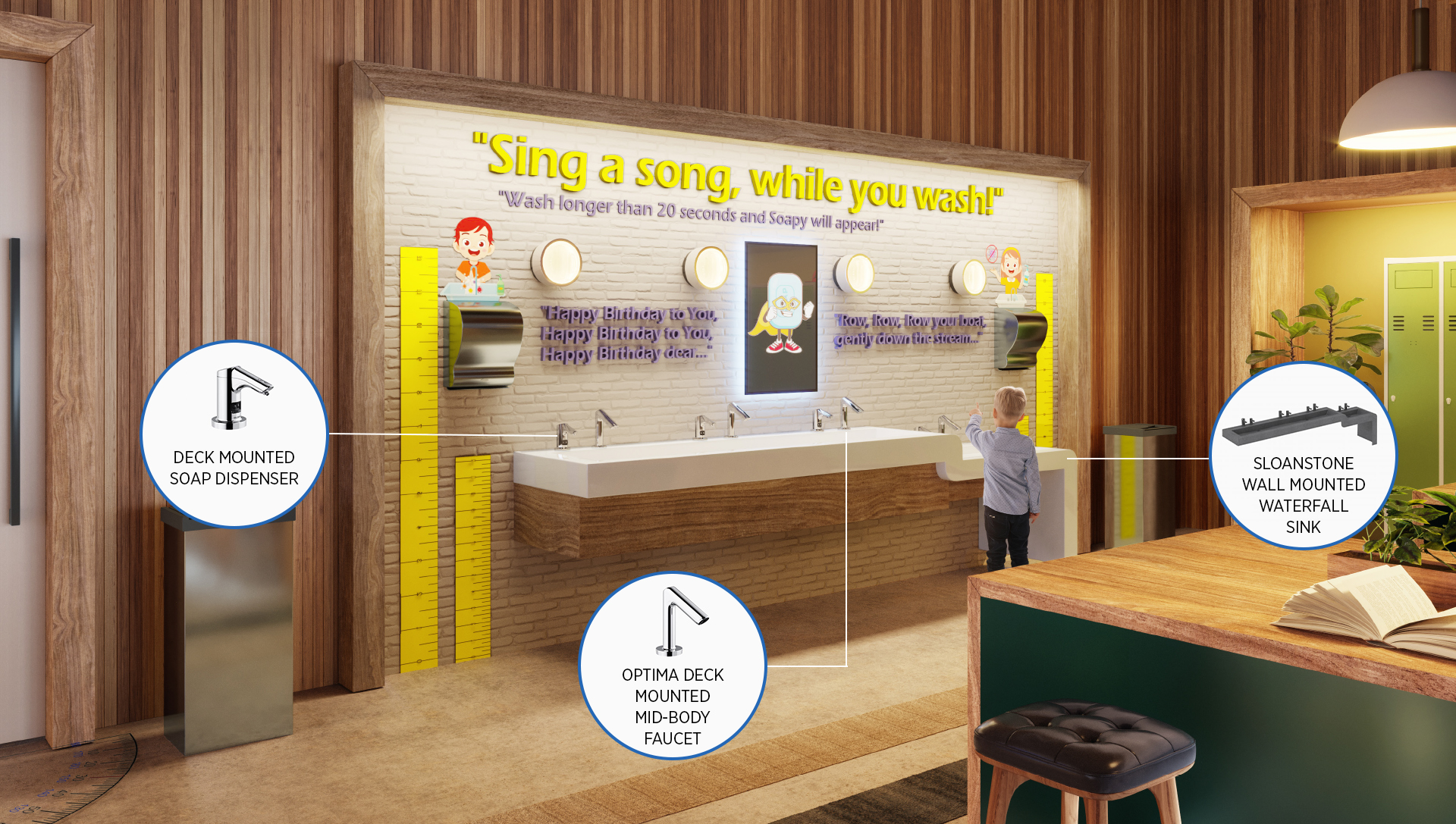 Sloan ETF-420 Optima Deck-mounted Faucet, Sloan ESD-420 Deck-mounted Soap Dispenser, SloanStone® ELWF-84000 Wall-mounted Waterfall Sink
In the post-COVID world of commercial architecture and design, handwashing will emerge from the restroom to claim a footprint of its own in all manner of public spaces. The images you see here are a glimpse of this more hygienic future!
Want fresh ideas for making hand hygiene a higher priority in commercial architecture and design? Contact Sloan!
Manténgase al Día
Regístrese para recibir notificaciones por correo electrónico y actualizaciones del blog de Sloan